Office of the Senior Vice President for Research & Biotechnology
The overall goal of the Office of SVP-Research and Biotechnology is to build a distinctive profile at WesternU through the pursuit of excellence in research and innovation. We foster excellence in health sciences graduate academic programs and the continued development of interdisciplinary research and training initiatives within and between the Colleges at WesternU and other schools/colleges in our Southern California communities.
Strategic initiatives entail collaboration of extant research units to greatly expand the recognition of WesternU at the local, national, and international levels by developing improved diagnostic biomarkers, identify new targets for intervention and develop novel therapeutic approaches for better management of patients. A key initiative focuses on resultant development of novel therapies and providing resources to accelerate technology transfer and commercialization of new knowledge and products.
The Office of SVP-Research & Biotechnology serves as the centralized hub providing a supportive environment to the faculties and investigators/collaborators at WesternU with facilities and scientific interactions distinguished by the accomplishments in research, scholarship, creativity, and entrepreneurship, as well as the mentoring of health science students, graduate students, and other trainees. The goal is to develop strategic initiatives and assist in the development and submission of competitive grant proposals with close interaction and partnership with basic scientists and clinician-scientists bridging multiple departments/colleges and expertise to develop and build strong translational research programs, in a multidisciplinary manner, to expand ideas and the innovative process. These initiatives will enhance research and innovation in higher education at WesternU and enhance economic development in the region.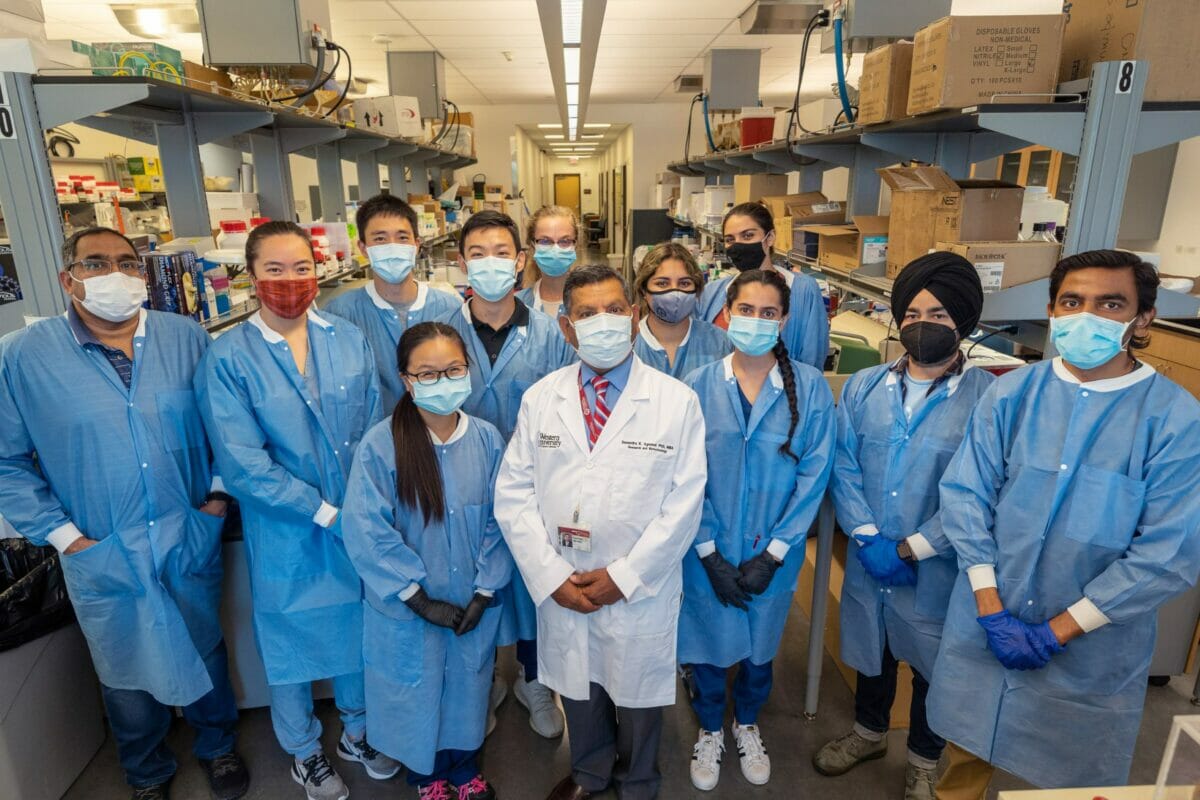 Meet
Dr. Agrawal
Devendra K. Agrawal, MSc, PhD (Biochemistry), PhD (Medical Sciences), MBA, MS (ITM) was appointed Senior Vice President for Research & Biotechnology and Professor of Translational Research at WesternU in 2019. He oversees all research activity at WesternU. He enjoys working side by side with fellow researchers and students.
Dr. Agrawal earned a Master of Science in Chemistry in 1973 and a PhD in Biochemistry in 1978 from Lucknow University, India. Following his tenure as a Clinical Biochemist at King George's Medical College, Lucknow, India, Dr. Agrawal moved to Canada and earned a PhD in Medical Sciences in 1984 from McMaster University, Canada followed by a Postdoctoral Fellowship at the University of British Columbia, Vancouver, Canada. In 1985, he was recruited as an Assistant Professor at Creighton University School of Medicine, Omaha, Nebraska, where he rose to the rank of Full Professor in 1997. Dr. Agrawal also earned an MBA in 2004 and an MS (ITM) in 2005 from Creighton University. He held the positions of Director of Research in Allergy and Asthma, Director of Vascular Research Center, Senior Associate Dean for Clinical & Translational Research, and the Chairman of the Department of Clinical and Translational Science.