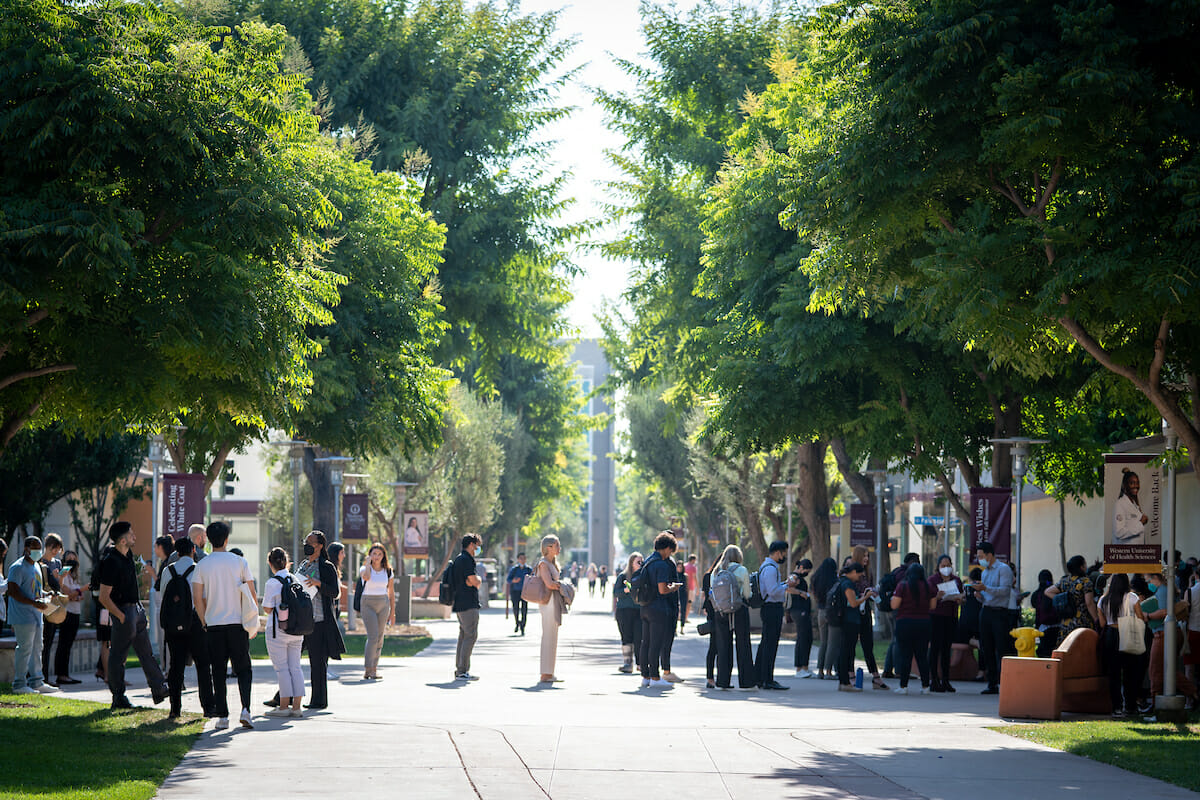 Services for New Students
As you begin your first year of studies at Western University of Health Sciences, we understand that you may have many questions. We have gathered information on Registration, Financial Aid, Parking, Tuition & Fees, etc. and listed it below for your convenience. If you find that you have additional questions or concerns, please feel free to contact the departments directly.
---
Student Portal
In addition to linking you to departmental and services websites, the student portal serves as an interface to the various University systems. It is designed to be your single-sign-on source for all of your campus needs!
Student Portal: my.westernu.edu
---
Registration
Registration will take place online via my.westernu.edu (Personal Information/Student Records). To view the information for your program/class year, visit the Registrar's Office website. Information regarding registration will be e-mailed to your WesternU e-mail account prior to the start of your the registration period. During the registration process, you will also complete the following items:
Parking Sign-Up
Disability Accommodation Request
Insurance Sign-Up or Submission of Proof of Existing Coverage
Fitness Sign-Up
For detailed information regarding the registration process, please visit the Registrar's Website
Registration Questions? (909) 469-5491 | registrar@westernu.edu
Office Location: Student Affairs Annex, Second Floor of the HFCDHP (campus map)
---
Financial Aid
You will be receiving information on your Financial Aid awards and the procedures for accepting those awards via my.westernu.edu (Student Finances) in your WesternU e-mail account. For additional information, please visit the Financial Aid Website.
Financial Aid Questions? (909) 469-5353 | finaid@westernu.edu
Office Location: Student Services Center, second floor (campus map)
---
Tuition & Fees
Information on Tuition & Fees can be found by selecting your program on the Financial Aid Budget Estimate Site.
Tuition & Fee Questions? (909) 469-5403 | bursarsoffice@westernu.edu
Office Location: Anderson Tower, 4th Floor (campus map)
---
Parking Permit
Parking permits are now available for purchase through CASHNet. Log in to the Student Portal my.westernu.edu, then expand the Student Finance section of the Quick Links menu. Click on the 'View/Pay My Student Account' link to be taken to the CASHNet main menu. Select the 'Click Here to Pay Balance' link to access the parking permit options and add your selected parking permit to your student account. If you purchase your parking permit during the fall registration process you will receive your pass in your Orientation packet.
| | |
| --- | --- |
| Permit Type | Permit Cost |
| Annual Parking Permit (Autos) | $470.00 |
| Annual Parking Permit (Motorcycles) | $235.00 |
| Semester Parking Permit (Autos) | $255.00 |
| Semester Parking Permit (Motorcycles) | $137.50 |
Parking permit and daily permit spaces can be located on the Campus Map. Student Lot assignments are subject to change due to campus construction projects. Students will be notified via their WesternU e-mail of any changes to the Student Lots. Parking permit fees are non-refundable once purchased.
Students may also utilize daily parking permit spaces in lieu of purchasing an annual or semester parking permit. The daily permit spaces must be paid for anytime they are used (including evenings and weekends). The daily permit rates are as follows:
$3.00 before 7:00 p.m.
$1.00 after 7:00 p.m.
Please note: Daily permit rates are determined by the City of Pomona and are subject to change.
Parking Fee Questions? Contact bursarsoffice@westernu.edu
Parking Permit Questions? Visit Bursar's Office
Office Location: Anderson Tower, 4th Floor (campus map)
---
Sexual Harassment Training (Mandatory for ALL Students)
All incoming students are required to complete a 30 minute sexual harassment training module. You will receive an e-mail at the start of your first academic term with instructions to access the training. This training will then be completed on an annual basis.
Sexual Harassment Training Questions? (909) 706-3517 | studentaffairs@westernu.edu (University Student Affairs)
---
Additional Useful Links
Services
Center for Disability and Health Policy (HFCDHP)
Counseling Services
Learning Enhancement & Academic Development
Notary Public
Resources
Alumni Relations: Services for Current Students
Campus Store
International Students
Library
Benefits & Information
Clubs – Get Involved!
Discounts for Students
Health Insurance
Housing Options
LiveSafe App
Easily communicate with with campus security, report an emergency, suspicious activity, a needed repair, and more.
Interactive Campus Map with info on what's in each building. Includes peer-to-peer SafeWalk and request a security escort.