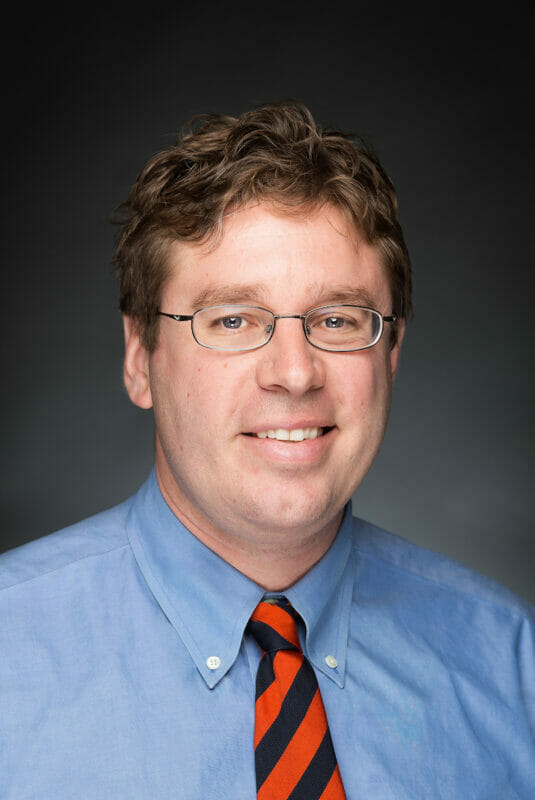 Hendrik Szurmant, PhD
Associate Professor of Microbiology
College of Osteopathic Medicine of the Pacific
Join year: July 2016
Education
Ph.D., Biochemistry, University of Illinois at Urbana-Champaign, Illinois,2004
Diplom (MS equivalent), Biochemistry, Universität Leipzig, Germany, 1999
Education Experience
Postdoctoral Scholar, The Scripps Research Institute, La Jolla, CA,2004-2007
Research Assistant (PhD), University of Illinois, Urbana-Champaign, IL,1999-2004
Research Assistant (Diplom), Universität Leipzig, Germany, 1998-1999
Teaching Experience
Associate Professor, Western University of Health Sciences, COMP, 2016-present
Associate Professor, The Scripps Research Institute, La Jolla, CA,2014-2016
Assistant Professor, The Scripps Research Institute, La Jolla, CA,2007-2014
Teaching Assistant, University of Illinois,Urbana-Champaign, IL,2000
Courses
Infectious diseases, microbiology and immunology topics.
Director of the Longitudinal "Biochemical and Clinical Research Track".
Research Interest
Pathogenic bacteria are some of the most formidable threats to human health. These threats appeared all but eliminated, thanks due to the discovery of powerful antibiotics. The constant exposure of bacteria to these antibiotics has selected for potent multi-drug resistant bacteria, so called superbugs, that are making a strong comeback. To cope with this renewed threat a dedicated effort by the scientific community is needed to identify new drug targets and to generate inhibitors of such targets. The Szurmant laboratory contributes to this endeavor by studying essential aspects of bacterial physiology and signal transduction in model bacteria and selected pathogens. A unique feature of the lab is the integration of information stemming from numerous disciplines, including structural biology, genetics, molecular bioinformatics and biophysics.
Bacterial signal transduction mechanisms and their role in antimicrobial resistance, physiology and development of the cell
Bacterial two-component systems as targets for new antimicrobial drugs
Co-evolution of protein-protein interaction interfaces and their role in health and disease
Research Grant
Active - R01 National Institute of General Medical Sciences, National Institutes of Health, Role: PI, Essential Autolysin Activity in Gram-postitive Bacteria ($1,800,000 total cost), 2013-2018.
Completed - R01 National Institute of General Medical Sciences, National Institutes of Health, Role: Key contributer, PI: Hoch, Genetic Control of Development ($3,000,000 total cost), 2012-2016.
Awards
University of Illinois List of Excellent Teachers
Editorial Board Member, Journal of Biological Chemistry, 2013-present
Induction into Honor Society Phi Kappa Phi
Ad hoc grant referee for The Marsden Fund, New Zealand
Ad hoc grant referee for The Czech Science Foundation, Czech Republic
Ad hoc reviewer for journal Science
Ad hoc reviewer for journal Structure
Ad hoc reviewer for the Journal of Bacteriology
Ad hoc reviewer for journal Molecular Microbiology
Ad hoc reviewer for journal PLoS One
Ad hoc reviewer for journal Biochemistry
Ad hoc reviewer for journal Genome Biology
Organizations
American Society of Biochemistry and Molecular Biology
American Society of Microbiology
Publications
Uguzzoni, G.; John Lovis, S.; Oteri, F.; Schug, A.; Szurmant, H.; Weigt, M. Large-scale identification of coevolution signals across homo-oligomeric protein interfaces by direct coupling analysis. Proc Natl Acad Sci U S A. 2017 Mar 28;114(13):E2662-E2671.
Boibessot, T.; Zschiedrich, C.P.; Lebeau, A.; Bénimèlis, D.; Dunyach-Rémy, C.; Lavigne, J.P.; Szurmant, H.; Benfodda, Z.; Meffre, P. The Rational Design, Synthesis, and Antimicrobial Properties of Thiophene Derivatives That Inhibit Bacterial Histidine Kinases. J Med Chem. 2016 Oct 13;59(19):8830-8847.
Zsheidrich, C.P., Keidel, V., and Szurmant, H. (2016) Molecular Mechanisms of two-component signal transduction. J Mol Biol, 428: 3752-75. doi:10.1016/j.jmb.2016.08.003.
Feinauer, C., Szurmant, H., Weigt, M., and Pagnani, A. (2016) Inter-Protein Sequence Co-Evolution Predicts Known Physical Interactions in Bacterial Ribosomes and the Trp Operon. PLoS One 11, e0146166.
Szurmant, H., and Hoch, J.A. (2013) Statistical analyses of protein sequence alignments identify structures and mechanisms in signal activation of sensor histidine kinases. Mol Microbiol 87, 707-712.
Dago, A.E., Shug, A., Procaccini, A., Hoch, J.A., Weigt, M., and Szurmant, H. (2012) Structural basis of histidine kinase autophosphorylation deduced by integrating genomics, molecular dynamics, and mutagenesis. Proc Natl Acad Sci U S A 109, E1733-1742.
Procaccini, A., Lunt, B., Szurmant, H., Hwa, T., and Weigt, M. (2011) Dissecting the specificity of protein-protein interaction in bacterial two-component signaling: orphans and crosstalks. PLoS One 6, e19729.
Fukushima, T., Furihata, I., Emmins, R., Daniel, R.A., Hoch, J.A., and Szurmant, H. (2011) A role for the essential YycG sensor histidine kinase in sensing cell division. Mol Microbiol 79, 503-522.
Schug, A., Weigt, M., Onuchic, J.N., Hwa, T., and Szurmant, H. (2009) High-resolution protein complexes from integrating genomic information with molecular simulation. Proc Natl Acad Sci U S A 106, 22124-22129.
For a complete list of publications visit: http://www.ncbi.nlm.nih.gov/pubmed/?term=Szurmant+H
Invited Talks
Conference on Coevolution in Proteins and RNA, Theory and Experiments, Cargese, Corsica, France: Coevolution in bacterial signaling proteins, invited speaker, April 2016.
77th Harden Conference: Two Component Signaling in Bacteria: Integrating Approaches and Science in Warwickshire, UK: The YycFG two-component system as a regulatory feedback loop for the expression of autolysin activity and the target of antimicrobial activities by human chemokines, invited speaker, July 2015.
Microbiology Seminar at the University of Göttingen, Germany: The essential YycFG two-component system, invited speaker, September, 2014.
Microbiology Seminar at the Karlsruhe Institute of Technology in Karlsrhue, Germany: Baterial signal transduction: An integrative approach studying two-component signaling proteins, their interaction partners and their activation mechanism, invited speaker, May 2014.
552nd WE-Heraeus-Seminar "Physics of Biomolecular Folding and Assembly: Theory meets Experiment" in Bad Honnef, Germany, invited speaker, February 2014.
Microbiology Seminar at the Universite Pierre et Marie Curie in Paris, France, July 2013.
29th Symposium on Gene Regulation in Munich, Germany: What Sequence Diversity Teaches us about Bacterial Signaling, invited keynote speaker, October 2012.