Looking to the Future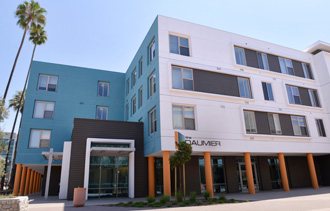 Our goal for Western University of Health Sciences should be nothing short of greatness, and we must aim high for our institution to be considered the national treasure that it deserves to be. At WesternU, aiming "too high" is considered a virtue, for it is in the setting of lofty goals and achieving them that great, sometimes unexpected, things can be accomplished. Even if an original target is not attained, simply coming close can yield impressive results.
Yet building tomorrow's greatness cannot depend upon practices that were honored in the past but are ill-fitted to the work of the present. For example, greatness in teaching and learning can no longer be only about transmitting and acquiring information, as this is easily accomplished today through browsers and a WiFi connection. Rather, greatness in teaching, learning, research, and clinical care can only be realized through fostering creative, bold, and even audacious ideas.
This is why our Strategic Plan must be grounded on new models and new ways of doing things that measurably enhance the quality of our educational programs, as well as everything we do to surround and support those programs. What follows in this document are the foundations for our lofty aim of advancing Western University of Health Sciences by Transforming the Face of Health.
INTRODUCTION
WESTERN UNIVERSITY OF HEALTH SCIENCES
Birth of a College – Growth of a University
In 1977, a small group of founders embraced the idea of creating a college of osteopathic medicine in the western United States, and asked Philip Pumerantz, PhD, to come to California to start the college and serve as founding president. They had a name (the College of Osteopathic Medicine of the Pacific—COMP), a President (Dr. Pumerantz) and a vision—a new, high-quality college of osteopathic medicine. Their new president faced an enormous task—he was president of a medical college with no students, no faculty, no buildings, no classrooms, no equipment, and little money.
WESTERNU'S OVERARCHING COMMITMENTS
VISION AND MISSION
Western University of Health Sciences is Transforming the Face of Health. We envision healthy people and a healthy society.
Our mission is to produce, in a humanistic tradition, health care professionals and biomedical knowledge that will enhance and extend the quality of life in our communities.
STRATEGIC PLANNING AT WESTERNU
The first University-level strategic plan for WesternU was created in 2005, with many ambitious goals set to be achieved by 2015. Much of the plan had already been completed by June of 2011 (major achievements listed below). At the end of 2011, President Pumerantz and former Provost Ben Cohen determined that a new plan should be created for the University that built on what had already been accomplished and refreshed our plans for the next five years, in light of past achievements and current conditions.