The following is a brief tour of the Echo360 player, including key features and user interface.
When you play any Echo360 lecture recording, the first screen you see allows you to choose configuration and layout.

Unless you require one of the other options, leave the Configuration setting on Broadband.
Choose from the following themes and layouts:

Click the Launch Echo Player button to open the player interface with the theme and layout of your choice.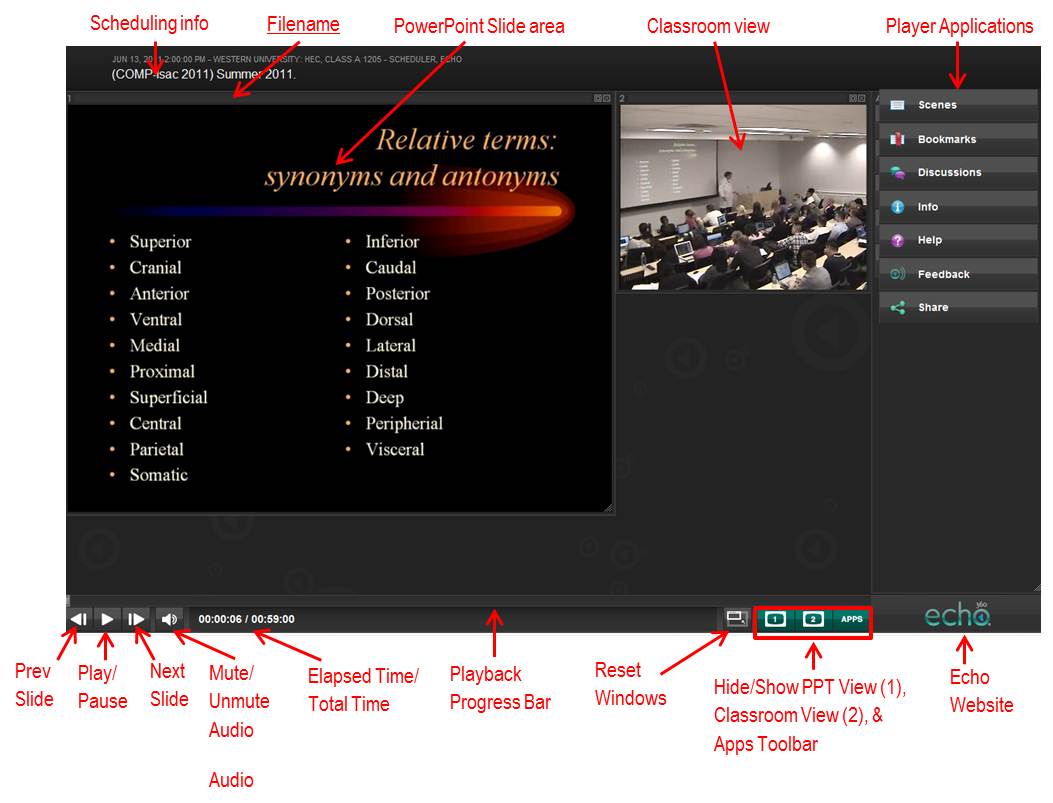 While not shown in in the screen image above, Echo recently added a variable speed control next to the other player controls that will allow you to view the slide presentation with audio at one-half or twice the normal speed. Video content will be blacked out.
In addition to the player controls, the following applications are available through the Echo360 interface:
Scenes – skip to slides at different points in the presentation
Bookmarks – Add notes or comments to specific timepoints in the recording
(NOTE: This feature is only available for recordings posted in Blackboard's EchoCenter)
Discussions – Post and read comments from other classmates about the presentation
(NOTE: This feature is only available for recordings posted in Blackboard's EchoCenter)
Info – Information about the session such as title, recording date
Help – Keyboard shortcuts and contact information for Technical Support
Feedback – Tell Echo360 what you think of the player interface
Share – Let your friends on Twitter or Facebook know what you're doing for class
Note the reversed position of the PowerPoint and classroom views. Either of these windows can be removed, repositioned, or resized by dragging the corner.

The Reset Windows button resets the windows to their original position.

To advance to a particular slide, select the Scenes button.